If you believe we must do more to end gun violence, join us in wearing orange on June 2.
Dear Friends --
Our daughter, Hadiya, was the light of our life -- and she shined even brighter after performing with her marching band at President Obama's inauguration in 2013.
We never imagined that one week later, she would be murdered with a gun -- shot at a park near her school in Chicago.
Hadiya's high school classmates will be graduating next month. While Hadiya won't get to walk across that stage,
her friends are all going to wear orange on June 2 in her honor
-- and to inspire action to stop the gun violence that takes too many lives in this country.
We're writing to ask for your help.
Pledge to wear orange on June 2 and show that you're one of the millions of Americans who believes we must do more to end gun violence in our country.
People
from all over the country will come together online and in person to declare June 2 National Gun Violence Awareness Day.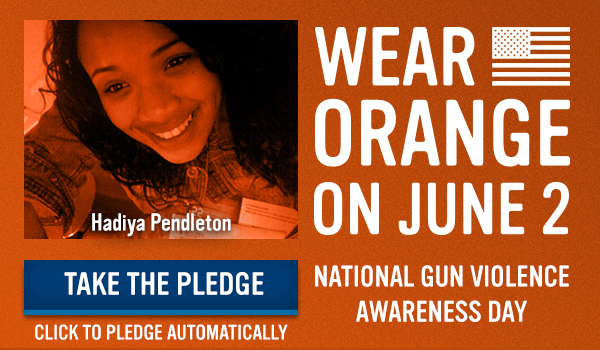 Hadiya's friends chose the color orange because it symbolizes the value of human life. Hunters wear orange to alert other hunters that they're there. It is a way to take care of their own life and the lives of others.
For us, it also represents the enormous potential that is lost when a young person like Hadiya is killed. By wearing orange, we reaffirm the right of every American to live a life free from gun violence.
This day is especially close to our hearts because June 2 would have also been Hadiya's 18th birthday. We'll be wearing orange to honor Hadiya and all the love and joy she brought to our community here in Chicago.
Please join us in wearing orange for your loved ones, your city, and our country.
Click below to automatically fill out your pledge, and you'll receive a reminder to wear orange on June 2 for National Gun Violence Awareness Day:
http://act.everytown.org/sign/wear-orange
Gun violence touches every corner of America. We don't have to live in a country where shootings happen every day. If we all stand up together and demand change, we will succeed.
Thank you for being part of this movement with us.
Sincerely,
Nate and Cleo Pendleton